Casa Lina was built in 1960 along with Ms. Lina Senn's observatory. It served as accommodation for the many "stargazers" of the observatory. The Osservatorio Astronomico is still a popular place to observe the heavens. Every first Friday of the month, the observatory is open to everyone and you can explore the starry sky under professional guidance. The observatory is happy to organize "private star hours" on request. We will gladly put you in touch with the responsible persons.
The Casa Calina can accommodate up to 22 people. Six double rooms with running water are spread over two floors. In two of the double rooms, an extra bed can be arranged. For the six rooms, there are two public bathrooms, a kitchen and two public rooms available. The two holiday apartments (each with a private bathroom / toilet and kitchen) are particularly suitable for families. All of our rooms are non-smoking.
Each room / apartment has its own garden or terrace seating area with a unique view of Lake Lugano and the Ticino mountains with its dominant mountain, Monte Generoso. The large, quiet and sunny garden with pergola and open fireplace grill, sun beds, playground and table tennis offers plenty of space for all guests. In the hotter months, there is a large swimming pool in the garden for cooling off, for fun and games.
Your well-behaved and considerate four-legged friends are welcome. The proximity of the house to nature provides an optimal starting point for beautiful walks with your favorite companion.
Our 6 double rooms, also available for single use, are all equipped with running water. The rooms are practical and cozy. An additional bed can be arranged in two of these six rooms to accommodate up to 3 people. Please note that space in the double rooms does become limited when set up for three people.
There are 2 shared bathrooms with a toilet, shower / bathtub for the six rooms. You can enjoy the wonderful Ticino mountains and the view of Lake Lugano on your own terrace or garden seating. A communal kitchen and a dining room offer you the best conditions for self-catering.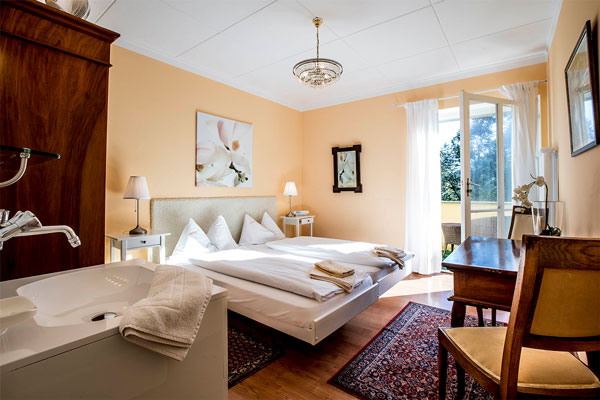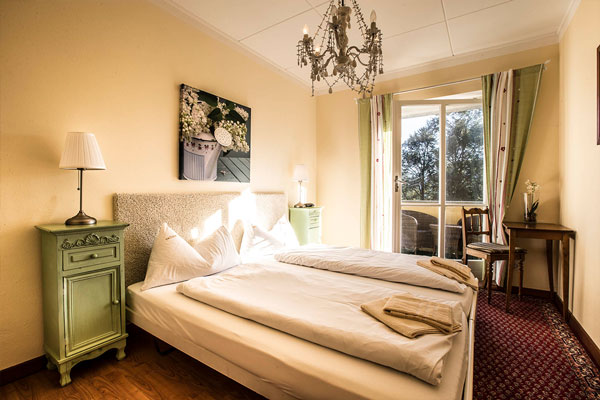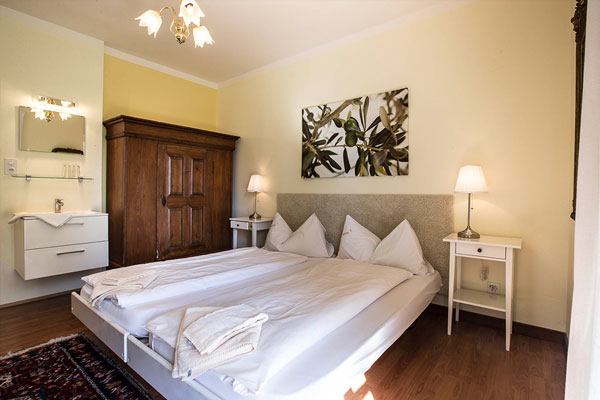 The Apartment Monte Generoso
From the apartment Monte Generoso you can enjoy a fantastic view of Lake Lugano with the Monte Generoso in the background. The apartment is on the upper floor and has its own bathroom / toilet. Enjoy cooking in the modern kitchen, well-equipped with a dishwasher, refrigerator, freezer, microwave, kettle and coffee machine and more. In the large winter garden of the apartment you can spend your time in peace when the weather is not so good.
The apartment has its own large garden seating area, where you can also eat comfortably with the best view. A maximum of four people can stay in the apartment. The apartment has a connecting door to the adjoining double room with running water. When using the additional room, two more guests can comfortably fit in the apartment Monte Generoso.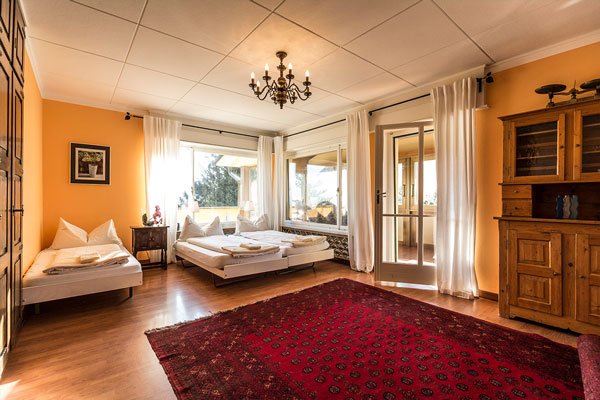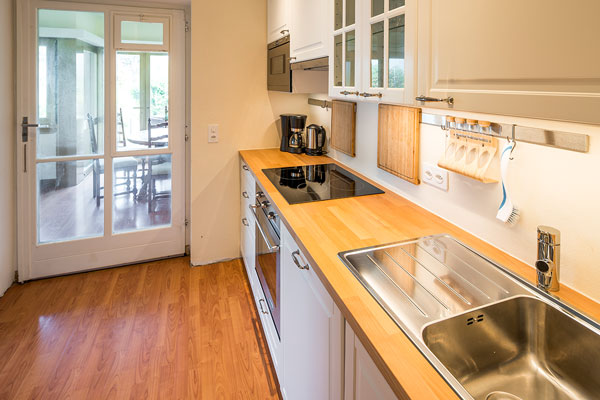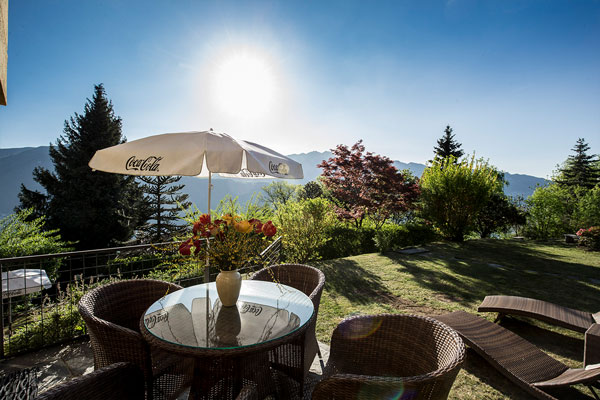 The Apartment Monte San Salvatore
The San Salvatore apartment is on the lower floor where you also have a wonderful view of Lake Lugano and the magnificent mountains. The apartment has its own toilet / bath / shower / bathtub, a living / dining room, a modern fully equipped kitchen with dishwasher, microwave, kettle, coffee machine and a private covered terrace which makes it an ideal place for holidays.
Up to three people can stay in the apartment. When booking the adjoining double room with running water, two additional guests can easily be accommodated in the Monte San Salvatore apartment.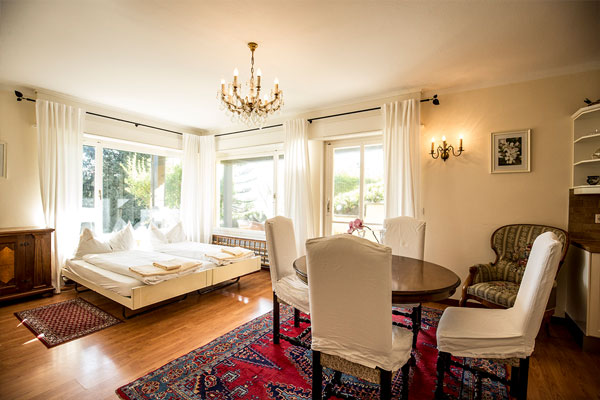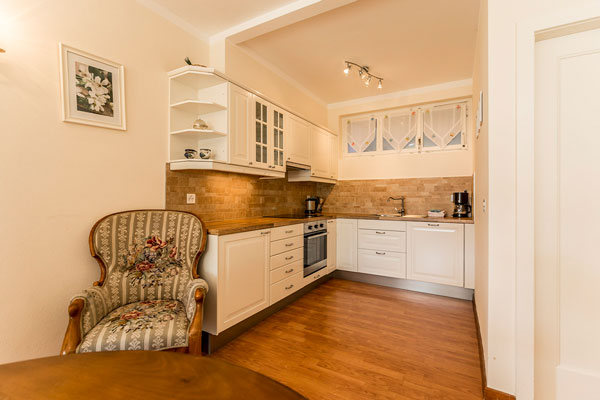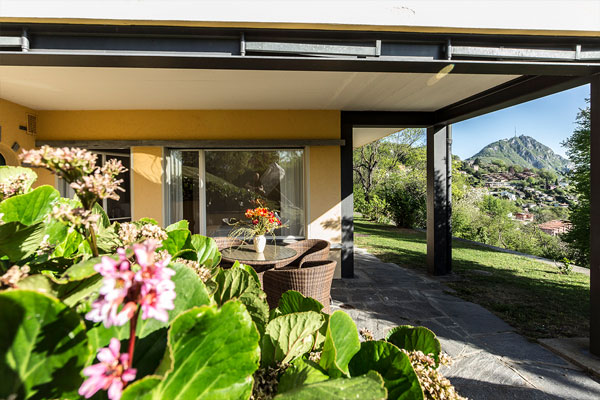 The Garden
The large and very sunny garden offers plenty of space for relaxation, recreation, fun, sports and games. You will find an oasis of calm here away from all the traffic. On the sun loungers and in the shade of the umbrellas you can really relax in the southern ambience.
Play equipment and enough space is guaranteed for all, but especially for the little ones, so that no boredom arises. In the covered pergola, you can organize your own BBQ in the open fireplace barbeque area. We already wish you "Buon Appetito" with Costine and Luganighetta. A large swimming pool is available in the hotter months.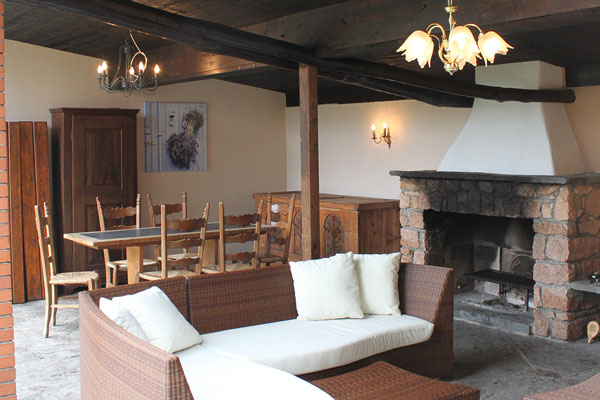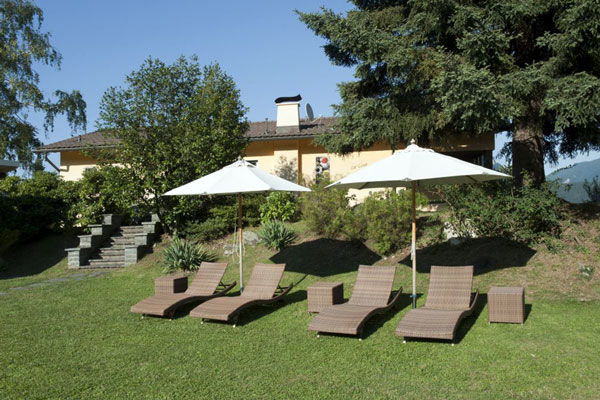 Casa Calina has a modern, shared kitchen with a stove, oven, microwave, kettle, coffee machine, and dishwasher. All necessary pots, pans, plates, glasses, cutting boards, knives, and cutlery are available.
The village shop "Denise" offers all the essential goods for daily use. All major food distributors can be found in Paradiso, about 20 minutes away by car.
In the large shopping area Grancia "Lugano Sud" you will find everything your heart desires from Swisscom to IKEA.
Fresh rolls, bread and croissants can be purchased daily from 7:30 am. in the Hotel Villa Carona by prior order.
Firewood for the fireplace can also be ordered in advance from the Hotel Villa Carona for a small fee.
Breakfast
Large breakfast buffet in the Hotel Villa Carona daily from 8:00am. to 10:30am. for CHF 22.00 per person from the age of 14. Children under this age pay CHF 1.00 for each full year of their age.
Half board (breakfast and 3-course selection menu)
Breakfast is from 8:00 am. to 10:30 am. in the Hotel Villa Carona. The half-board menu is served in the Ristorante La Sosta Carona from 6:30pm. to 9:00 pm.
When "La Sosta" is closed, we will reserve a table for our guests in the "La Posta" Ristorante in Carona. Half board costs CHF 69.00 per person per day.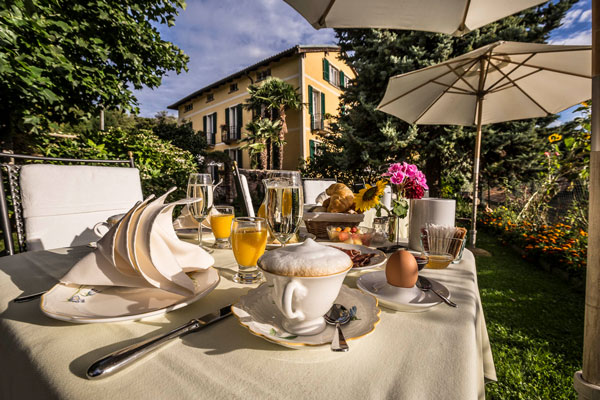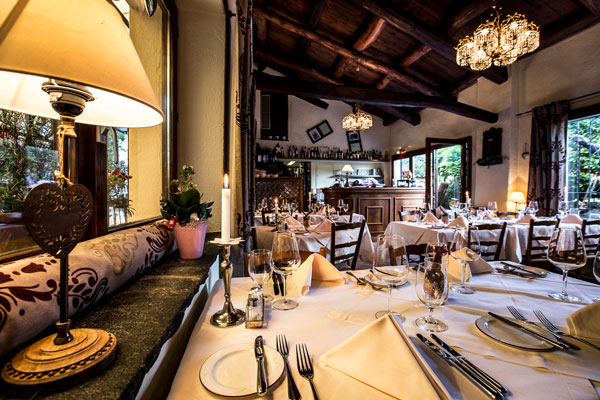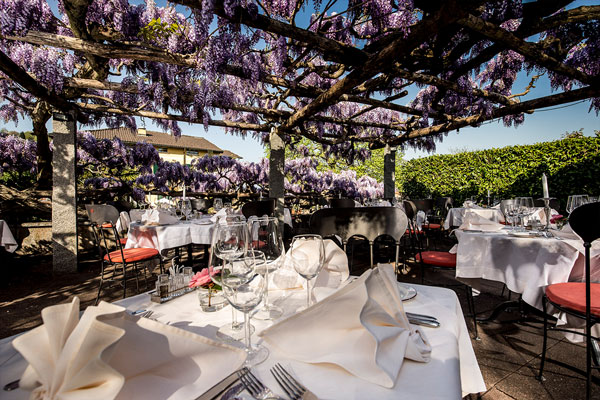 Village center
500m
Village shop
500m
Kiosk / post office
450m
Carona swimming pool
800m
Restaurants
600m
Church
500 m
Tennis
900m
Miniature golf
800m
Bus stop
500m
Lugano train station
8km
Paradiso train station
7 km
Agno airport
10 km
Prices
Catagory
CHF
Double room with running water (2 people)
70 - 95
Double room for single use
with running water (1 person)
55 - 80
Double room with extra bed
with running water (3 people)
85 - 110
Holiday apartment Monte Generoso
(max. 4 people)
155 - 195
Holiday apartment Monte Generoso
plus a double room with a connecting door
(max. 6 people)
225 - 290
Holiday apartment San Salvatore
(max. 3 people)
125 - 155
Holiday apartment San Salvatore
plus a double room with a connecting door
(max. 5 people)
195 - 250
Entire Casa Calina
(min. 2 nights and max. 22 people)
730 - 950
Group offer per person per night
(from min. 3 nights, minimum 12 people,
only valid from arrival Sunday to departure Friday)
from 29
Weekly flat rate in a double room
with running water (2 people)
from 455
Weekly flat rate in a double room for single use with
running water (1 person)
from 385
Dogs / pets (per animal)
8
Breakfast buffet in the Hotel Villa Carona
22
Half board (breakfast and 3-course selection menu
in the Hotel Villa Carona / Ristorante La Sosta (per person per day)
69
All prices are in Swiss Francs (CHF) per room / apartment / house for the maximum occupancy per night, including bed linen, towels, final cleaning, use of kitchen, WiFi, parking, service and VAT, excluding city tax * Lugano and meals.
Pets are very welcome (CHF 8.00 per day without food).
* The City Tax Lugano is CHF 4.55 per night per person 14 years and above.
Good to know
The Casa Calina guest house is managed by the Swiss Historic & Garden Hotel Villa Carona . For all questions and concerns, please always contact the hotel reception, which is located in the center of Carona. The Hotel Villa Carona is a comfortable seven minute's walk from the guest house Casa Calina, or just 2 min by car.

Check-In from 4:00 pm to 9:00 pm
Check-Out from 7:30 am to 12:00 pm
at the Hotel Villa Carona
Check-in after 9:00 pm. is only possible by prior arrangement!
If the rooms are ready before the regular check-in time, you are welcome to check in earlier. Luggage can be stored at the Hotel Villa Carona on arrival and departure.
We will happily issue you with a Ticino Ticket upon arrival, which enables you to use all public transport (train, post bus and city bus) in the Canton of Ticino free of charge. Not only that, but you also get discounted prices on mountain railways, ship travel, and at many museums in Ticino to name a few. The Ticino Ticket is valid for guests as part of the Lugano City Tax. It is issued on arrival and is valid throughout Ticino until midnight on the day of departure.